Candle Making Night Party
Regular price
Sale price
$550.00
Unit price
per
Sale
Sold out
Please read all information prior to booking!
What's included?
With this package, you will experience making a candle the Crafted Creations Way! This experience is reserved for parties between 10-20 people. This covers all candle making materials and your very own 14oz 2wick custom candle for each person.

Choose from 30+ fragrances, name your candle & create your scented candle. 

Enjoy your time with music and games as well. 



Age Requirement

: 

Ages 18+ are Welcome! You must be 21 to bring in & consume alcohol, we do check id. 

Due to alcohol being on the premises, please respect the age policy listed above. No Exceptions. We do not allow infants, toddlers, children under 18, pets or observers during this class.

To inquire about "teen" private parties, please email us for more details. Teen Parties require separate rules & regulations that must be discussed via email or by phone prior to agreement of booking. 




What can I bring?
BYOB: Any drinks including wine and liquor! We DO NOT provide cups, wine openers, ice or silverware. You are allowed to bring your own ice in a small cooler. Please drink responsibly. We are not liable for any accidents on or outside of our premises. If you arrive INTOXICATED, you will be asked to leave immediately and your class will NOT be refunded nor rescheduled. No exceptions!!
FOOD: You can bring in your own food, and warming dishes for this private party. Please bring your own dishes, plates, pans, etc. Catered food is accepted. We have a bar to setup any food and drinks on. We recommend arriving 20 mins early to setup any food so this does not take away from the candle making time. 

Balloons are welcome. No table decor will be allowed due to wax and candle materials on the tables! No taping or pinning anything to the walls, windows, or hanging anything from the ceiling. 
Class Time: Class is from 6:00-8:00pm, however class must start on time in order for the candles to dry properly, so you can take them with you. If your entire group is not present by 6:30pm at the latest, we will start with those who are present. If no one is present by 6:30pm, the class will be canceled and cannot be rescheduled. Please note, if we have started the class and someone arrives during or after the candle making portion, we will not reteach the process.  Please keep in mind, arriving late(after 6pm) will cut into the candle making time and if the candles are not dry by the end of class, you must pick up the candles the next open business day. 
*Traffic is unpredictable so please plan accordingly 
Rescheduling Policy : This class is NON REFUNDABLE!! If you need to reschedule please give us a 72 hour notice so we can release this date to other attendees. For inadequate rescheduling notice or no-shows, class fees will not be refunded nor will class credit be given. NO EXCEPTIONS. All rescheduling must be completed by email, chat or contact us by phone during store hours. If someone is absent from your party, there are no refunds, so please ensure everyone is attending prior to booking. 
 PAYMENT POLICY: When you make your reservation online, the site takes payment immediately. Payment online or via phone is required to guarantee your reservation. No walk ins. 

Add-Ons: To add Hookah to your experience CLICK HERE TO ADD TO CHECKOUT.  Hookahs must be added to your ticket and paid in advance so we can prepare the appropriate amount of hookahs prior to the class!
To add additional people after booking, you must contact us at least 72hrs before the party date to receive a separate invoice to pay the remaining balance. If we are not notified and/or the payment is not received within the appropriate timeframe, NO additional people can be added.

To add on our dj &/or bartending services, please email or call us for pricing. 
Directions: Our address can be found on our site, google or social media. GPS brings you right into the parking lot. Parking is free and open. We are located in the HMart shopping plaza, right next to the Brandsmart. We are in suite C212 upstairs on the 2nd floor, in the middle of Pink Martini Nail Bar and United Healthcare. There is an elevator behind the staircase. 
If you have any other questions please feel free to contact us prior to booking! 
Phone: (678) 620-3458 Email:craftedcreationz@chosengroup.org

Share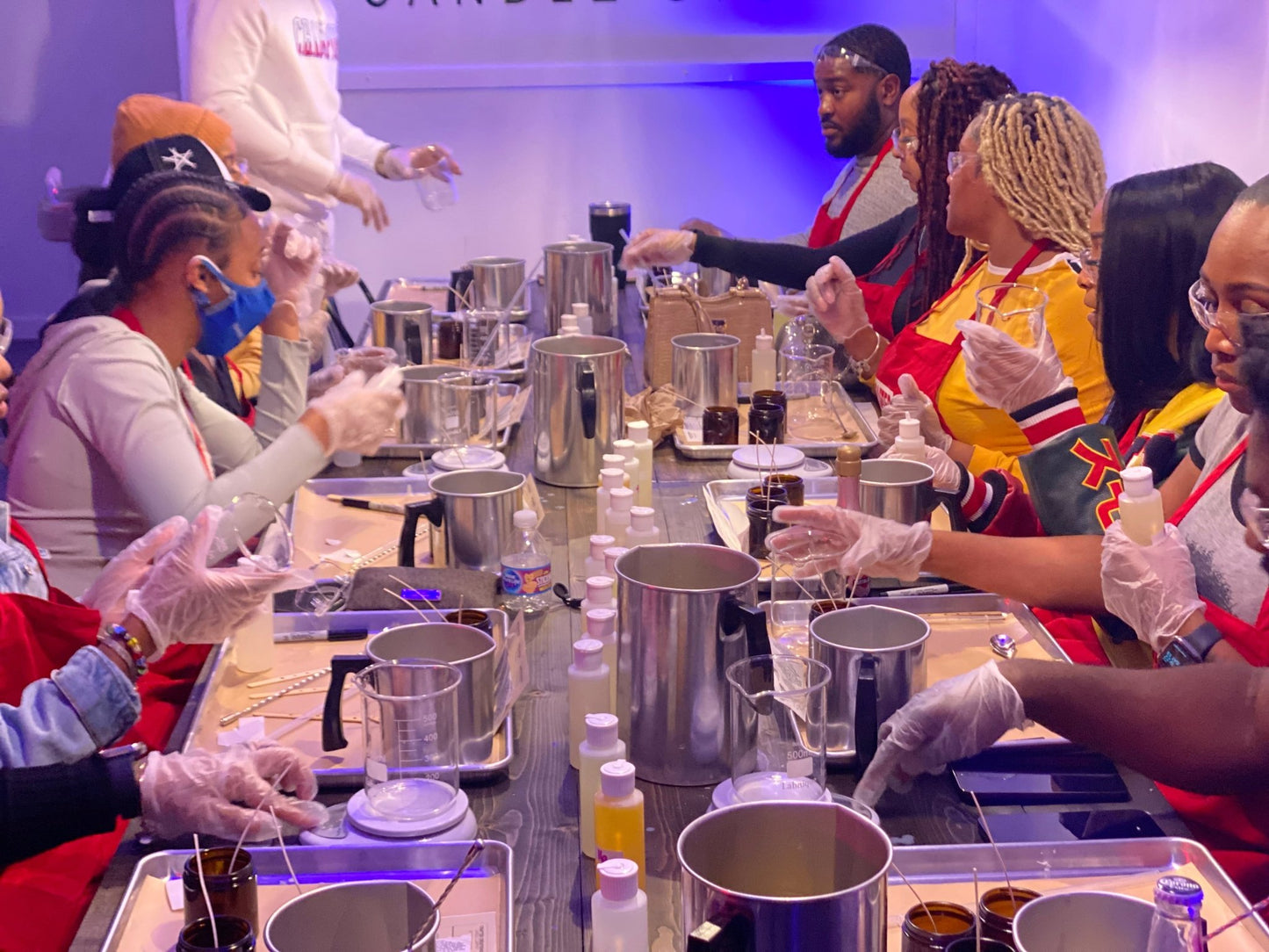 Crafted Creations Candle Making Party